Stop Line 3 tar sands oil pipeline to prevent a global disaster. Tar sands is so nasty that they have to add huge amounts of toxic chemicals and water and $#!t to it just to get it to flow in the pipeline. Toxic.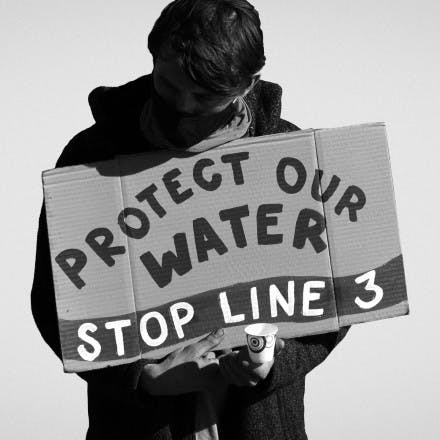 Stop Line 3 tar sands oil pipeline
"The state of Minnesota has already demonstrated a clear lack of understanding when it comes to the rights of Indigenous peoples," Tara Houska said, "and it appears there is a loose grasp on the basics of U.S. property law as well."
the path of the oil pipeline cuts through lands where a handful of local tribes have treaty rights, and it cuts across natural resources like rivers and waterways - raising fears about spills and environmental damage.
pipeline opponents, also known as water protectors, want to stop the 337-mile, $4 billion tar sands pipeline. Groups of water protectors are trying to intervene by taking direct action and legal action.
the Calgary-based oil company Enbridge, wants to drill a route under pristine Minnesota waterways. Water Protectors are demonstrating against the construction of the pipeline while Enbridge is working with the local police to disperse the resistance movement.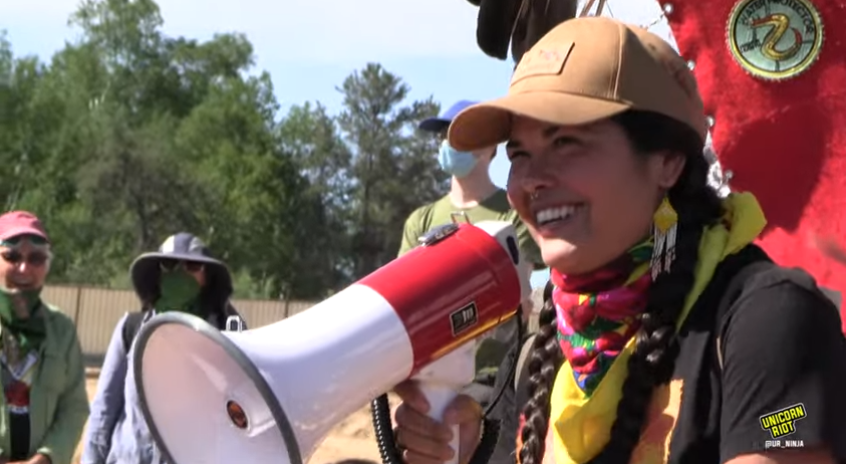 Tara Houska
Indigenous lawyer, activist, and founder of the Giniw Collective. Tara Houska Twitter zhaabowekwe
StopLine3
Stop Line 3 pipeline. For water. For treaties. For climate. Stop the Line 3 pipeline StopLine3.org
Honor the Earth
Winona LaDuke Stop Line 3 honorearth.org
Hubbard County has escalated their repression. They do this in the open, the police are paid by Enbridge.
Environment and health. Water protectors erected blockades.
Line 3 resisters light the way in a battle for life on earth Truthout
low flying helicopters to clear out Water Protectors
Partnership for Civil Justice Fund, Mara Verheyden-Hilliard, CPLL, Exec. Dir scroll down a little to view videos. PCJF/Twitter
"Enbridge continues to violate the reserved rights under the Old Crossing Treaty of 1863, ignoring the law and preparing to drill for the Line 3 pipeline to go under the Red Lake River without a tribal monitor and consent of the Red Lake Nation," said the Environmental Indigenous Network in a statement.
Call MN
calling to demand you uphold treaties with the Nation and stop construction of the Enbridge Line3 tar sands pipeline.
651-201-3400 10a-2p CT MN Gov Tim Waltz, Lt Gov Peggy Flanagan
Water Protectors oppose the Line 3 oil pipeline. Line 3 will contribute to increased greenhouse gas emissions and contaminate waterways. Oil will inevitably spill in any of the 800 wetlands and 200 bodies of water the pipeline will cross, including the Mississippi River and Red River. In 2010, a pipe operated by Enbridge ruptured and spilled 1 million gallons of oil into the Kalamazoo River, the largest spill in U.S. history. It was one of over 1,000 spills for the company. On August 17, health professionals and Indigenous activists across the U.S declared the climate crisis as a public health emergency and called on the Biden administration to revoke the Line 3 permit at Our Water Our Health solidarity events.
Enbridge has already released 10,000 gallons of drilling fluid (a combination of water, clay, minerals and proprietary chemical solutions) into the environment during construction - contaminants that are potentially harmful to aquatic life and can poison drinking water. The spills are considered violations of the law, yet police, who have been reimbursed nearly $2 million by Enbridge, have not arrested or charged any company executives.